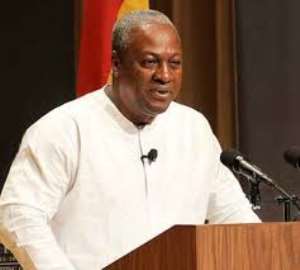 Former Ghanaian leader, John Mahama, must exercise patience and avoid contesting in the 2020 elections as the next leader after Nana Akufo Addo
What inspires people to pursue a political career in Ghana? This would have been my first question on my list of questions if I am to interview any Ghanaian politician.
Many people enter into politics because they want to make a change, create an impact to leave behind an unforgettable legacy, like Kwame Nkrumah, help the poor people by providing a better education, good health facilities and to create employment.
A better leader always feels comfortable because the people are satisfied. This is one of the reasons in many European countries, leadership doesn't matter to many of its citizens because they have jobs, and affordable food and commodities.
But in Ghana, life is very hard for the common man because the idea of people coming into politics is to be rich. If they use VW beetle car, within a short period, they use Range Rover, thus, politics in Ghana is not for the common man. The reason many Ghanaians are suffering today.
Actually, it doesn't make sense to Ghanaians to queue in such hot temperatures to cast votes choosing leaders who don't care about them than embracing the culture of corruption but since thousands of Ghanaians are suffering, the leader who rules Ghana is very important to them.
Years after Rawlings ruled Ghana in military uniform, power-addicted J.J. didn't quit politics, he stepped into the realms of democracy under the umbrella of the NDC and continued to rule Ghana.
Thus, it is a fact that the NDC is a political party which has ruled Ghana longer than any political party before NPP defeated NDC. In this case, Nana Akufo Addo hasn't been in power for too long (2016). If I should ask, why Ghanaians can't give this man some peace of mind to see what he can do?
Above all, why the defeated Mahama wants to contest again on the platform of NDC in 2020? It doesn't make sense. In my opinion, Mahama must exercise patience. He shouldn't be tempted to contest as president because he will lose again to the NPP government. At the moment, I can see clearly that NDC has no chance to rule Ghana because Ghanaians want to experiment with a new party.
I am neither clairvoyant, soothsayer, nor one with a third-eye but following the political atmosphere of Ghana, it is likely that Mahama will be defeated again. He has the chance to be president again if Nana Addo finishes his full term. That is when Ghanaians will determine which one of them is the best.
I love Ghana because it's my country of birth, I will never deny or betray my country. Sharing my opinion in this article doesn't mean I am an NDC or NPP member. I strictly follow the codes and principles governing journalism to remain neutral.
Therefore, this article wasn't written to provoke any political party. It's only my opinion. We must all help to make Ghana a better place, especially, taking our children's future into consideration.
Related topic: Stop The Antagonism Politics In Ghana And Help … – Modern Ghana
Facebook Comments